Popular Posts
6 Off Beat Things To Do in Bhubaneswar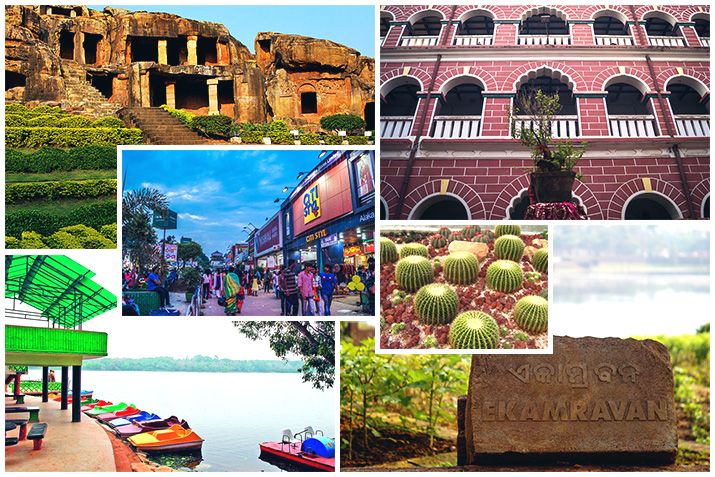 18 Oct 2022
Posted by Priya Abraham
Bhubaneswar's top attractions are dominated by temples, ancient monuments and museums that are undoubtedly captivating and must-visit places. But what next, after you've explored them? We bring you this list of offbeat things to do that will give you a very different and unique experience of this Temple City!
1.

360 view from atop the rock-cut caves
Considering the steep steps one needs to take to reach the top, climbing the historical Udaygiri cave is not short of a fitness determination test. Although going in groups will be more fun, you will still have the company of harmless monkeys if you are going solo. Take care not to eat from food packets along the way or do not get surprised if it gets snatched away by one of those friendly apes. The steps to the top may tire you, but we bet it is every worth it after you get that 360 degree view of the city from the top of the structure. We recommend you take the trip in the afternoons so that you can have a relaxed stroll at the magical caves and later take the climb for that relaxing view till the sunset. Yes, do carry your water bottles!
| | |
| --- | --- |
| Opening and Closing time: | Sunrise to Sunset |
| Remains Closed on: | Open on all days in the year |
| Dos and Don'ts: | Travel light. Be cautious while climbing the rocks, can hire a guide. |
| Must see: | Ranigumpha, Hathi Gumpha inscription incised in a deep-cut Brahmi script, Ganesha Gumpha, Bagha Gumpha |
| Entry fee: | For Indian Rs 15 and foreign national, Rs 200 per adult person |
| Children: | Up to 15 years free and above that would be charged as per the adult rate |
| Videography: | Rs 25 videography charges per person for non-commercial use. However, for commercial use one needs permission from Archaeological Survey of India. |
| Free Entry: | Two days in a year, i.e on April 18, World Heritage Day and November 19, the first day of the World Heritage Week. However, videography charges remain applicable to tourists. |
| Parking: | Available |
| Website: | www.asibbsrcircle.in |
2.

The largest thorny garden
Cacti and succulents have been a huge trend lately and if you too have a heart for these prickly beauties, you are in the right place. With a collection of 1,050 varieties of cacti, the Regional Plant Resource Centre (RPRC) in Bhubaneswar has the largest collection of cacti in Asia. It has evolved about 200 varieties of cacti through research and development. While scientists at the centre are adding more to the collection everyday through different culture techniques and propagation methods, the cactus collection here have been a subject of research and study both national and internationally.Interestingly, the RPRC has also extended its expertise in developing a Cactus House at Rashtrapati Bhawan, New Delhi.
RPRC is actually designed to become the largest botanical garden in Eastern India. Established in 1985, as a recreational garden and with an aim to provide a green lung for the inhabitants of Bhubaneswar, it gradually evolved as a dynamic and vibrant research institution with a focus on the conservation of plant biodiversity. It has many things to attract the visitors like facility for morning walk, boating in the lake, children's play area, orchidarium, bamboo setum, wild fruit garden, palmetum, medicinal plants and a seed bank.
The botanical garden of RPRC is popularly called as 'Ekamra Kanan' and attracts over joins the mega band wagon of tourism map of Orissa, with a rare blend of picturesque scenic marvel. The Botanic Garden of this institute offers a variety of entertainments, fun and amusement to all classes of tourists both young and old, children or adult apart from its principal objective of plant biodiversity conservation RPRC.
A 'children's park' established at a vitally important location with quite a number of play equipments sews to engage the kids in play and recreational activities. A 'multi action play system' is the centre stage of the corner with several individual play equipments
Morning walk is allowed to public from 5-30 am to 7-30 am during March-October and from 6-00 am to 8-00 am during November-February months. Garden visit is from 8 am to 6 pm during winter and 8 am to 7 pm during summer. Entry fee is Rs 25 per adult and Rs 7 for kids below 12 years.
There is a sales counter of plants at RPRC, which opens from 7 am to 12 O'çlock and 2 pm to 5pm during winter and 6 am to 11 am and 3 pm to 6 pm during summer.
| | |
| --- | --- |
| Opening and Closing time (Botanical Garden): | Between 8 am and 6 pm during winter and 8 am to 7 pm during summer. |
| Remains Closed: | Open all days |
| Dos and Don'ts: | No littering allowed, do not pluck flowers from the park |
| Must see: | Migratory birds inside the lake during the winter months, Cactus collection, Orchidarium, Bamboo setum, Wild fruit garden, Palmetum and Medicinal plants |
| Entry fee: | Adult Rs: 25 & Children: Rs 5 (between 3 and 10 years) and nill for below three years. However, group concession is also there as per the website. Morning walkers also can pay fees on daily/monthly basis. |
| Boating inside lake: | Rs 25 per 30 minutes and Rs 15 per 30 minutes for four-seater and two-seater boats respectively. |
| Parking: | Available |
| For more details: | www.rprcbbsr.com |
3.

Rediscover the old city on a rickshaw
Bhubaneswar could be leading the list of Smart Cities, but your visit would certainly be deemed incomplete if miss a trip to the historic Old town area of the city. We recommend you to hire a cycle rickshaw, which has become almost a rare sight to ride through these narrow lanes to help you re-discover the old world charm of the city made all the more atmospheric with the religious life that continues to revolve around it. The sight of the 1950s architecture and decaying concrete shopping complexes and not to miss the residential settlements stretching back to several years is sure to leave any urbanite awestruck. Dotted along the way, one can spot some of the finest medieval temples of India –undisputedly the major attraction of this city.
| | |
| --- | --- |
| Must see: | Lingaraj temple, Mukteswar temple, Rajarani temple, Bindusagar, Brahmeswar temple |
| Opening and closing time: | 5:00 am to 9:00 pm (All days in a year). |
| Trip costs: | Rs 100 approx. |
| Dos and Dont's: | Check with the temple staff before entering the temples. Non Hindus are not allowed inside several shrines. |
4.

Inhale some healing air at medicinal garden
Ditch your air conditioned and homes feeding you stale air and head to Ekamra Van Medicinal Plant Garden on the bank of holy Bindusagar to cleanse your lungs with some fresh healing air. Accompanied by the divine clanging of temple bells and chanting, it is sure to give you a delightful ethereal feel.
Ekamra Van that means "one mango tree forest" houses more than 200 varieties of plants in the beautifully landscaped garden with lotus pond and stone sculptures. Special care was taken to retain the spirit of the place while designing the garden that was constructed by the craftsmen from Raghurajpur and Lalitgiri. The layout of the garden has three thematic sub-precincts - the Shiva pindi, the Parvati pindi and the Ganesha pindi. While plants used for the worship of Lord Shiva adorn the Shiva pindi, those useful for women healthcare have been planted around the Parvati pindi. Similarly, Ganesha being the God of wisdom, intellect-promoting plants have been planted on his platform. The carving on each of the platforms relate to mythological stories associated with the particular deity.
| | |
| --- | --- |
| Dos and Donts: | Do not pluck leaves or plants in the garden. Ask the caretaker to show you around and explain the utility of different plants. While moving along the bank of Bindusagar, kids need to move under supervision. |
| Opening and Closing time: | 8 am to 5 pm |
| Must see: | Striking view of Lingaraj temple through Bindusagar Lake, Representation of seat of Lord Lingaraj through Shiva Pindi, Depiction of stories through animal figurines, Spice herbs used for local cooking etc. |
| Entry fee: | Rs 2 per adult, but for children up to 5 years entry is free. For school students with prior intimation from the school head, entry is also free. |
| Timings: | During winter morning 8 am to 12 noon and 2.30 pm to 5.30 pm and during summer 8 am to 12 noon and 3 pm to 6 pm. |
| Website: | www.ekamravan.in |
5. Cycle by the Kanjia lake near the Botanical Garden
A simple bicycle ride by the beautiful Kanjia Lake with gentle breeze brushing against your cheeks will surely be a fulfilling experience. The well-carved roads inside the botanical gardens will take you past colourful flowers and well kept nurseries hidden under a canopy of trees. The park also houses a beautiful play park for children, a Japanese Garden and a Mughal Garden. The lake spreads over an area of 105 hectare and has been declared as a "Wetland of National Importance" by Government of India since 2006. The water body is a home to more than 37 species of migratory birds besides, 20 species of reptiles, 10 species of amphibians, 46 species of fishes and three species of prawns.
| | |
| --- | --- |
| Opening and Closing time: | April to September (7.30 am. to 5.30 pm.) and October to March (08.00 am. to 5.00 pm.). |
| Remains Closed on: | Monday |
| Must see: | Orchid Garden, Mughal Garden, Japanese Garden, Medicinal Garden, Rose Garden, Arboretum, Bougainvillea Garden, Butterfly Garden, Heritage Garden, Dry Garden, Evolution Garden and also bird watching |
| Entry fee: | For adult Rs 20, free entry for children below 12 years and foreign national Rs. 100 per head. |
| Entry Fee for Vehicles: | There are entry fees for vehicles starting from Rs 30 up to Rs 200 for two-wheeler, three-wheeler, four-wheeler and buses. |
| Other Fees: | There are other fees as well from picnic pindis to forest rest houses, cottages to film shooting teams with fees ranging from Rs 300 to Rs 25,000 respectively. For handy-cam and other videography and filming one has to pay prescribed fees. |
| Website: | www.nandankanan.org |
| Dos and Donts: | Take your camera along. Do not rush. Enjoy the abundance of nature that the park has to offer. Polythene is banned inside Nandankanan. |
6. Shop middle-class at the laid back flea markets
If you wish to shop for goodies with your purse strings tight, Bhubaneswar has its own range of flea markets and roadside chic stalls to blow your mind away.The oldest haunt that shopaholics and fashionistas would recommend you would be the Unit I Market where you can find most stuff at cheap and affordable rates. Get some chic bangles for your dainty hands or jhumkas for that special occasion and fill your vanities with junk jewellery and chic accessories. Men can find their stuff too –jackets, scarves, shoes, tattoos, studs at this one stop. Bags, book, electronics, and toys come at wholesale prices leaving you spoilt for choices and yet one can find people bargaining for hours and getting things at almost half the price. An underground subway takes you to the opposite side of the road will take you to the city's busiest haat where you will find yourself lost in a world of bridal wears, cosmetics, shoes, books and electronic items besides utensils and vegetables. If you have tired your legs with shopping, refresh yourself by gorging on to that lip smacking Bara-ghuguni, Gupchup (golgappas) and Dahivadas. One can also try the Indradhanu market and the Damanahaat that are equally loved by shopaholics.
| | |
| --- | --- |
| Dos and Donts: | Be careful of pickpockets, double check the items for any damage and put your bargaining skills to use. |
| Opening and Closing time: | 10 am to 10 pm |
| Must see: | Daily household needs to fabrics, dress materials, fashion accessories |
| Entry fee: | No entry fee |
| Parking: | Designated space available, under the supervision of the Bhubaneswar Municipal Corporation. |
Login to Post Comment